Microsoft Project Server 2010 Features
Flexible Web-based Scheduling: Project Server 2010 offers web-based project scheduling and editing features to rapidly build both simple and difficult schedules online. In Project Server 2010, you can build complex schedules via web browser and assign multiple resources to do tasks.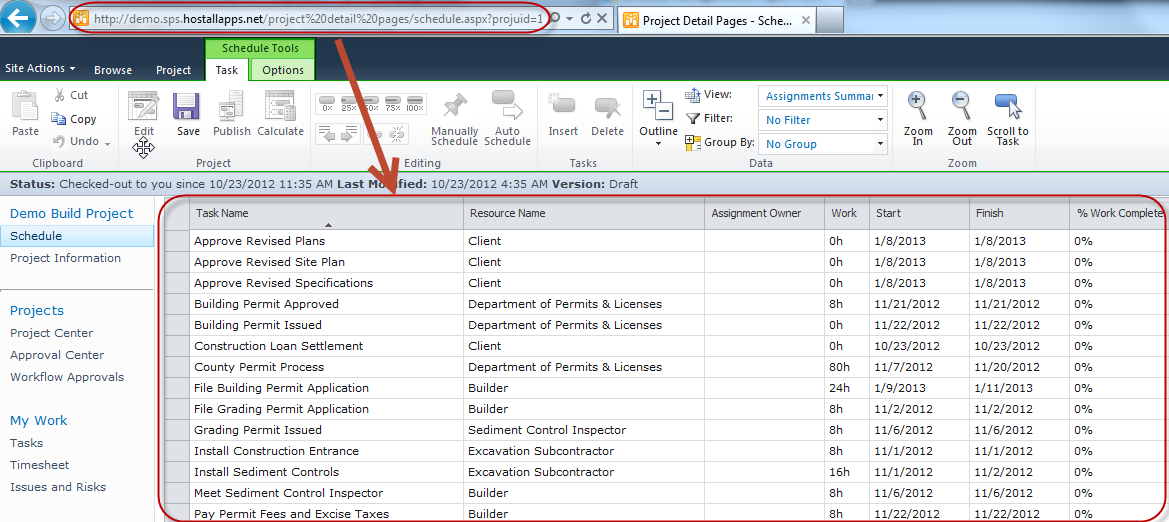 Editable web-based schedules: Project Server 2010 allows you to edit your schedules online. You can switch between manual and automatic scheduling modes, calculate, insert new schedule columns and do more in Project Server 2010.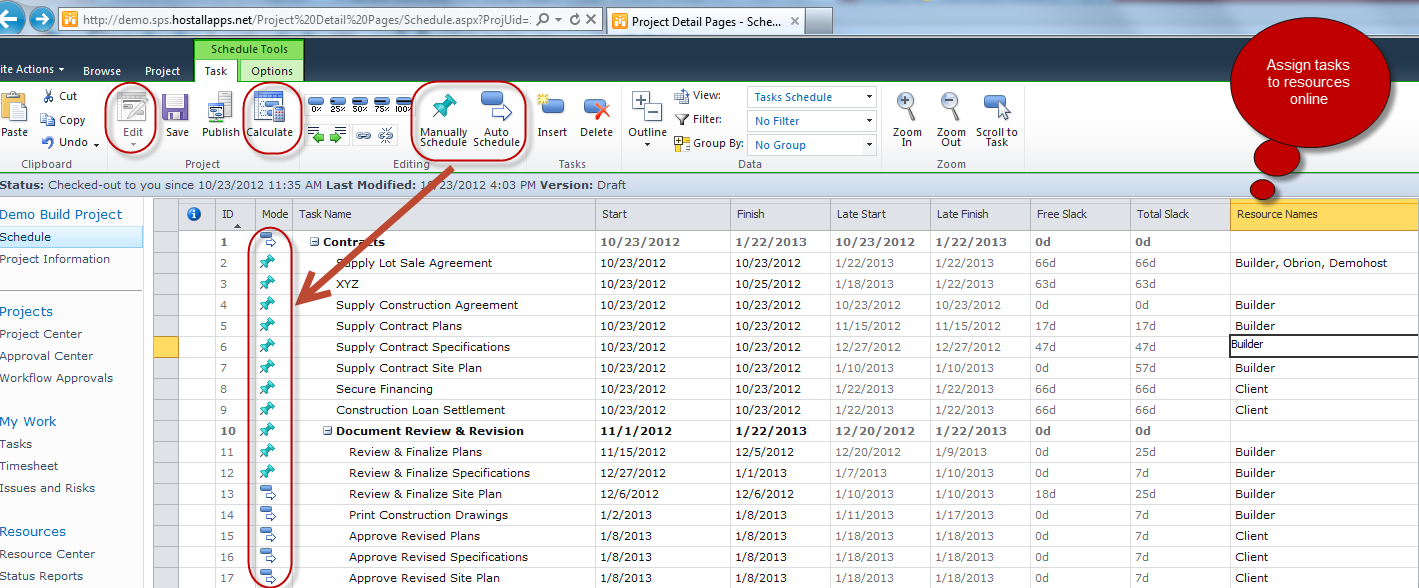 Consistent and familiar user experience: The Ribbon interface offers a consistent and familiar experience regardless of whether you create schedule on desktop or on Web.



Multi-level Undo and Change Highlighting: Multi-level undo allows you to quickly edit a schedule and reverse edits to securely return to a previous state. Change Highlighting feature highlights the columns where you have made any changes, which can help you as a project manager to assess the effect your changes have or can make on the plan.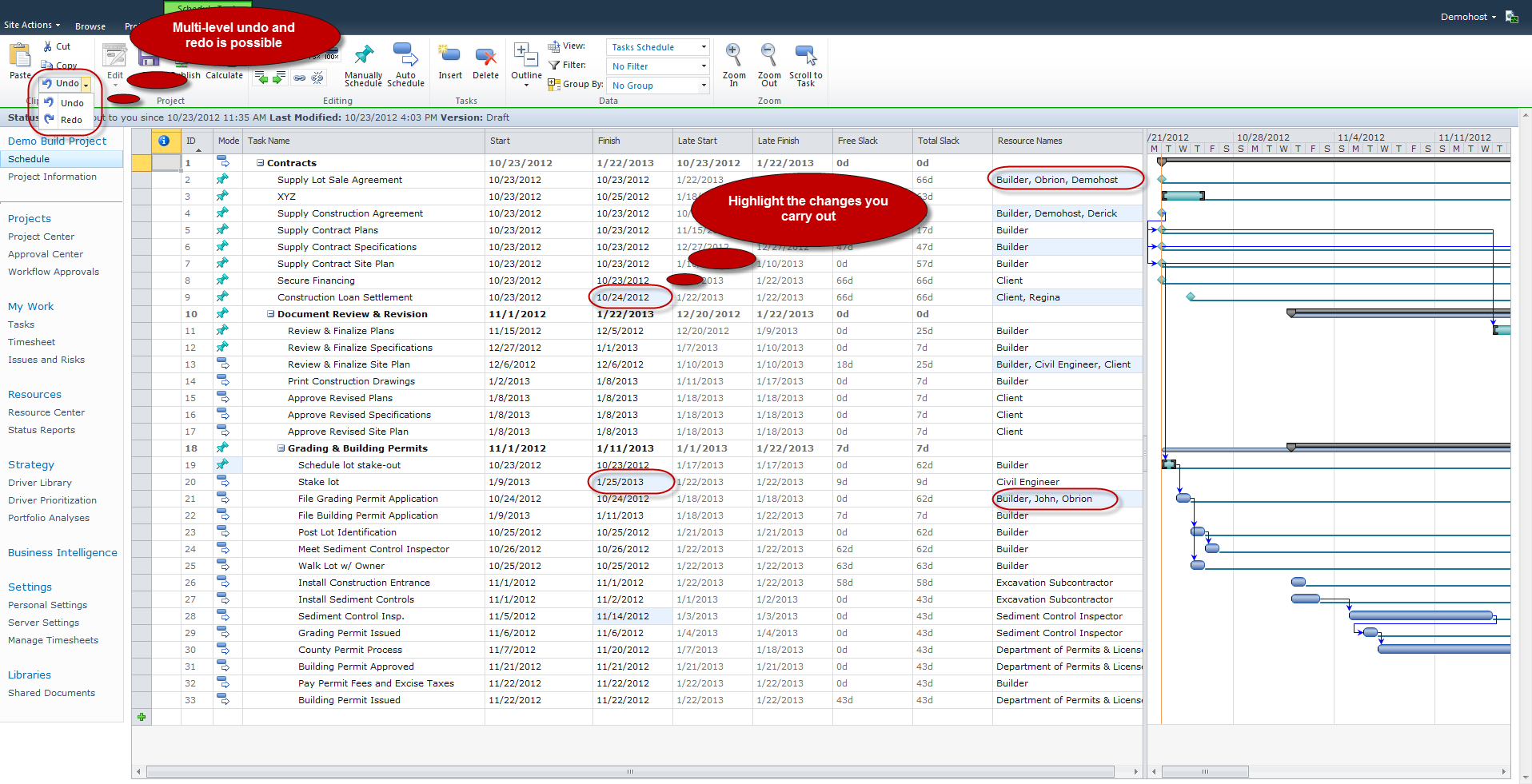 Provide a central location for team collaboration: In Project Server 2010, team members can effectively view project status, other related documents and more in one central location.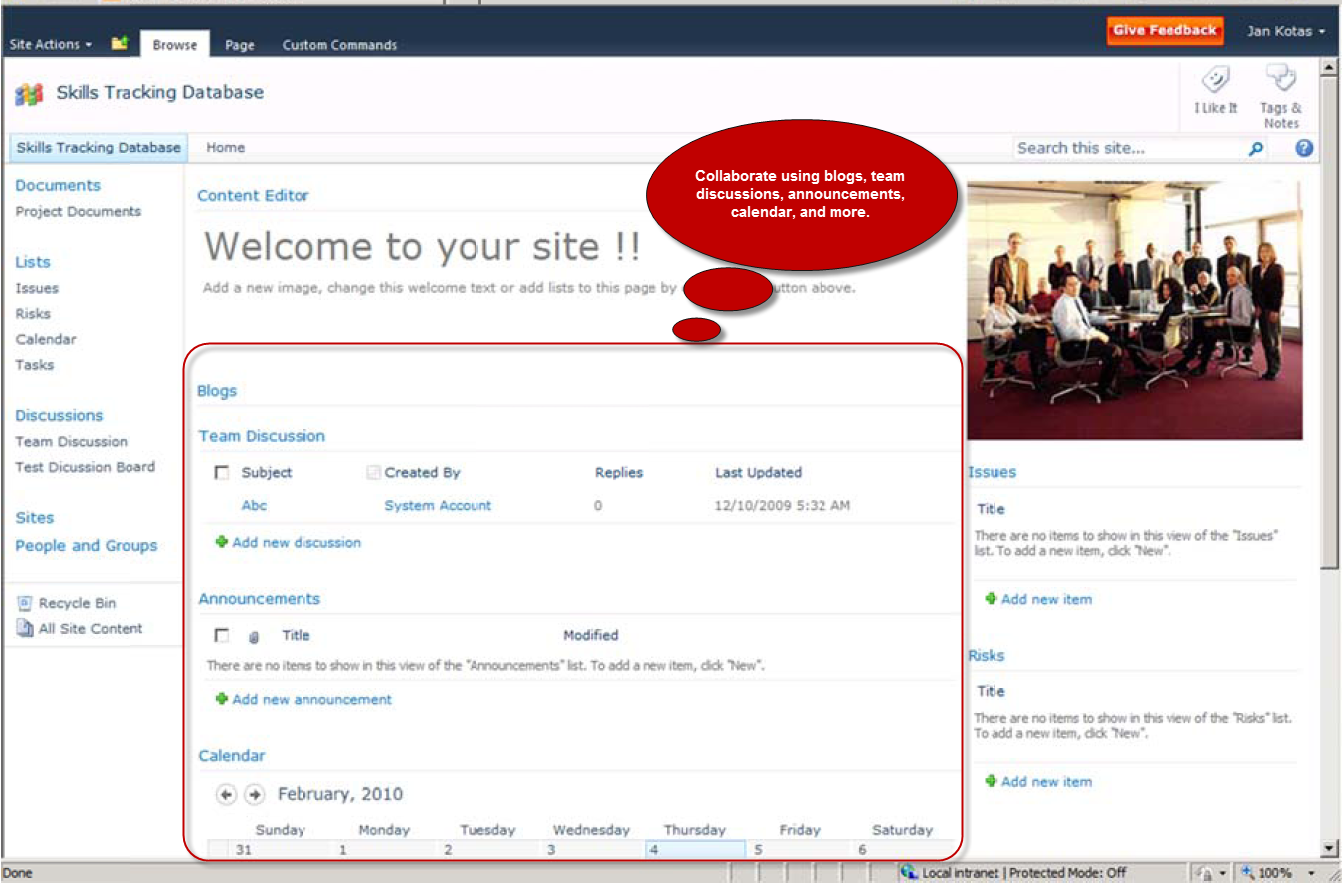 Manage content efficiently: Project Server 2010 use Microsoft SharePoint Server 2010 to ensure that teams can easily manage documents and other artifacts throughout project life cycle. You can manage digital assets, records, documents, and more to enhance efficiency, productivity and governance.



Link documents with project tasks: Project data can be linked to the corresponding task in the project schedule. You can make decisions by using the update information as team members will have a central location for finding the information they need.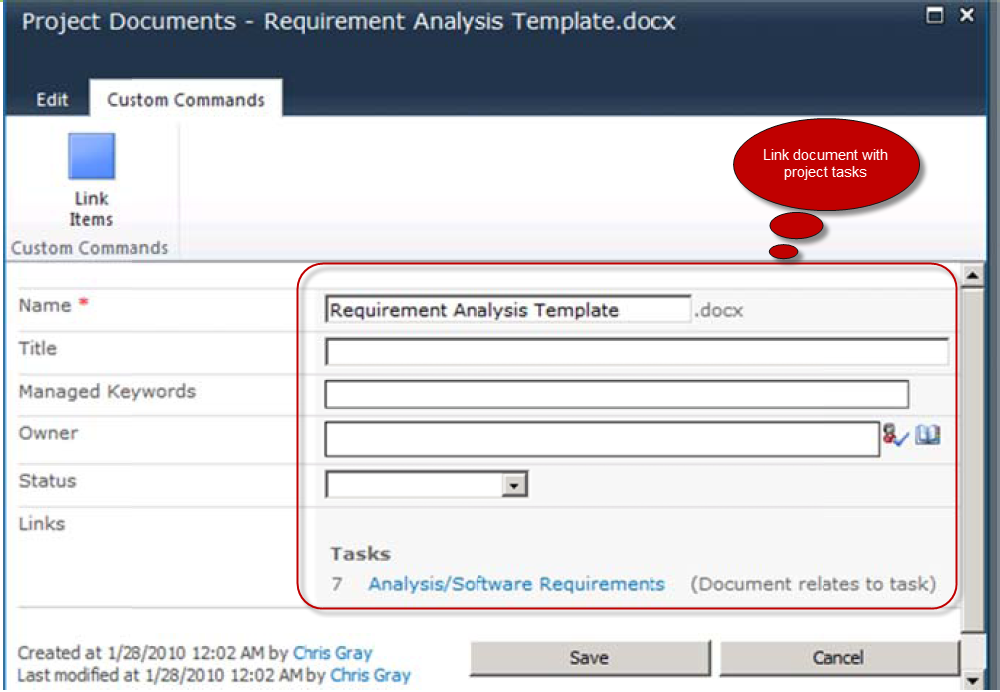 Use social platforms to convey project information: Project Server 2010 allows team members to provide constant updates on project activities such as key announcements and status reports. Discussion forums and blogs can be used to communicate with each other or update on project status.


Format and print one-page schedules or other reports: Project Server 2010 allows you to take print outs of your reports and schedules easily.



Easily export Project data into Microsoft Office tools: Using Project Server 2010, you can transfer project information into Microsoft Excel for spreadsheets and charts, Microsoft Office Word for reviewing as formal documents, or PowerPoint for good presentations.


Predefined or Custom Metrics: In Project Server 2010, you can track data (budget vs. actual, per cent complete, earned value) as per your needs. You get consolidated data which helps you to easily find and analyze detailed information. Moreover, you can efficiently track changes in the scope and schedule of your project.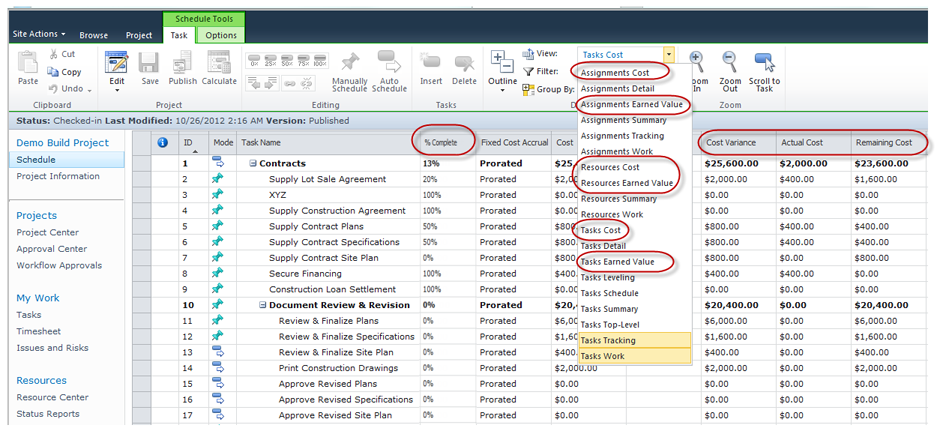 Track Scope and Schedule Changes: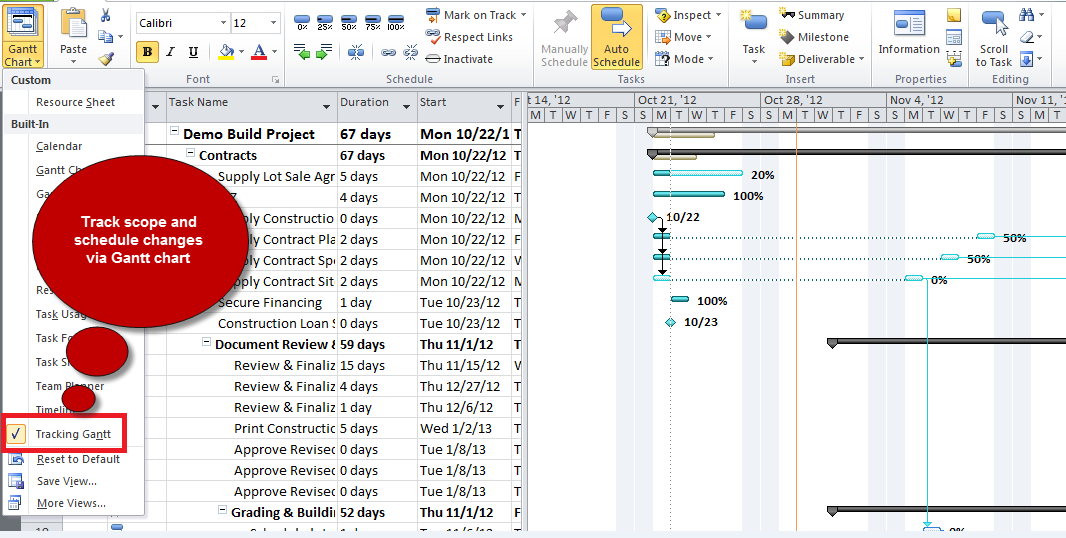 Easily assign resources to tasks: In Project Server 2010, you can easily assign tasks to resources either by using the drop-down menu or manually.



Adjust the task assignments to solve clashes over allocations: Manage your resource assignments visually, easily identify and handle over allocation issues, and substitute resources to handle conflicts that could create problems for delivery of project.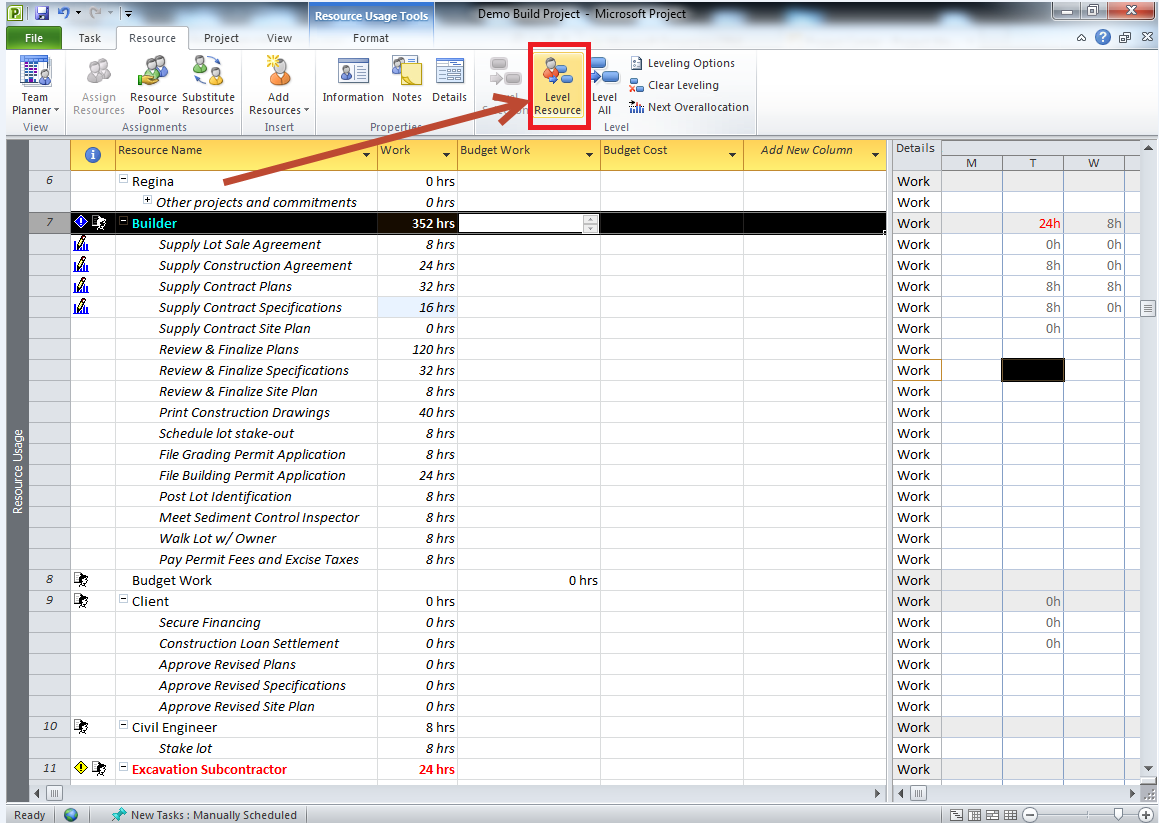 Govern finances by assigning budgets to projects and programs: In Project Server 2010, you can create and assign budgets based on assignment work and resource rates.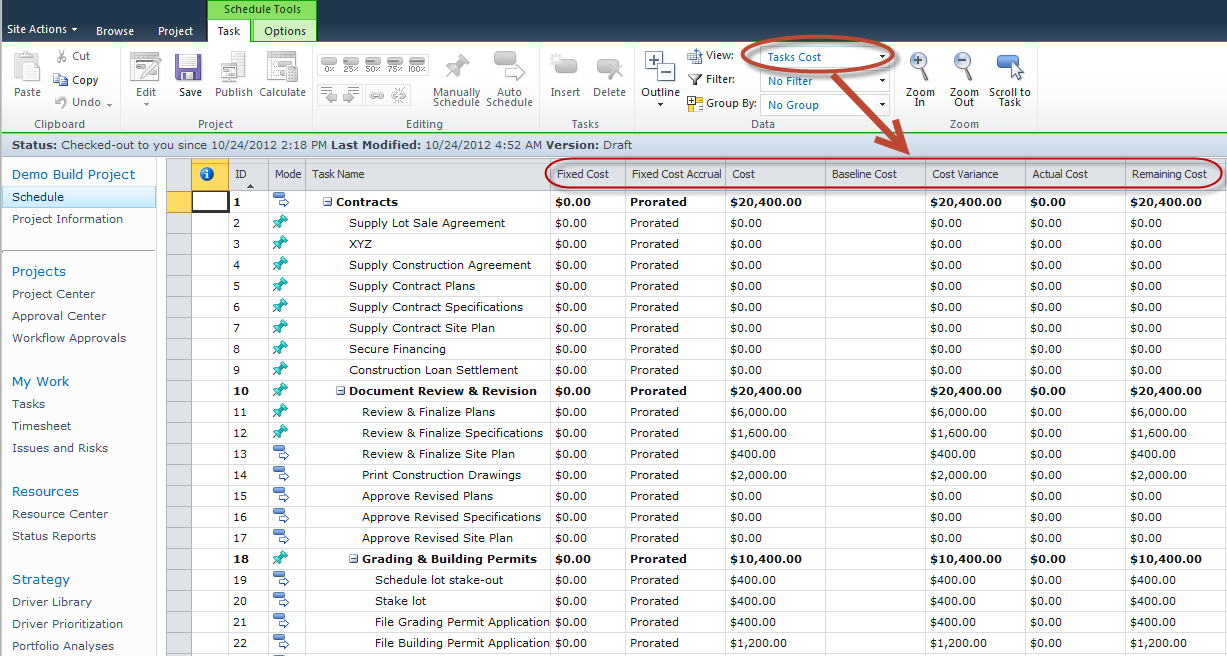 Improve your cost estimates with Cost Resources: Cost Resources allows you to capture non-work costs associated with a project, i.e., materials, equipment, training, contractor cost, among others.


Control projects from a central location and measure performance easily: You can standardize performance metrics and data across your organization and streamline status reporting via easy to use web-based tools. Moreover, you can display performance indicators in the configurable scorecard views or project schedule to provide stakeholders an overview of project- and portfolio-level performance.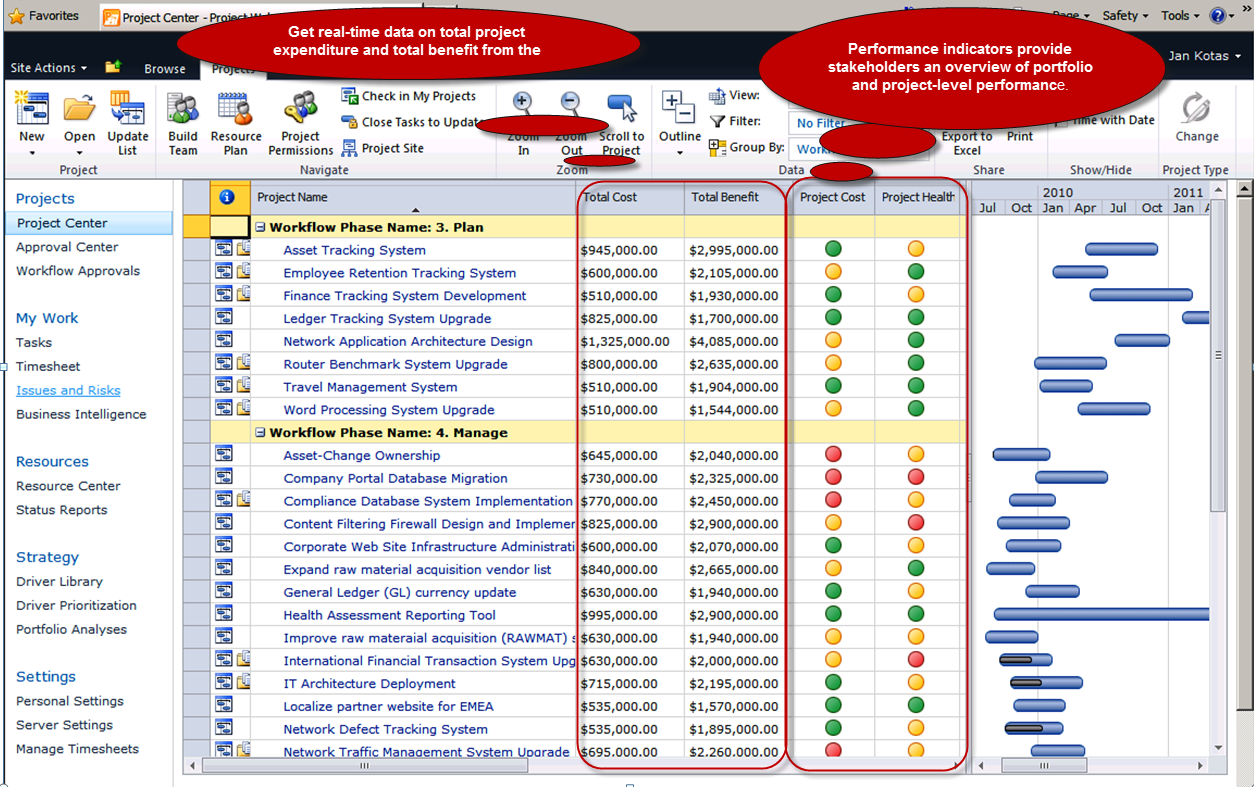 Create custom status reports to gather and bring together progress updates from team members: In Project Server 2010, project managers can outline the repetition of the status report, choose the resources, and describe the categories that need to be included in the report. With the help of status reporting tools, managers can have a "no shock" approach towards project implementation and keep stakeholders always up to date.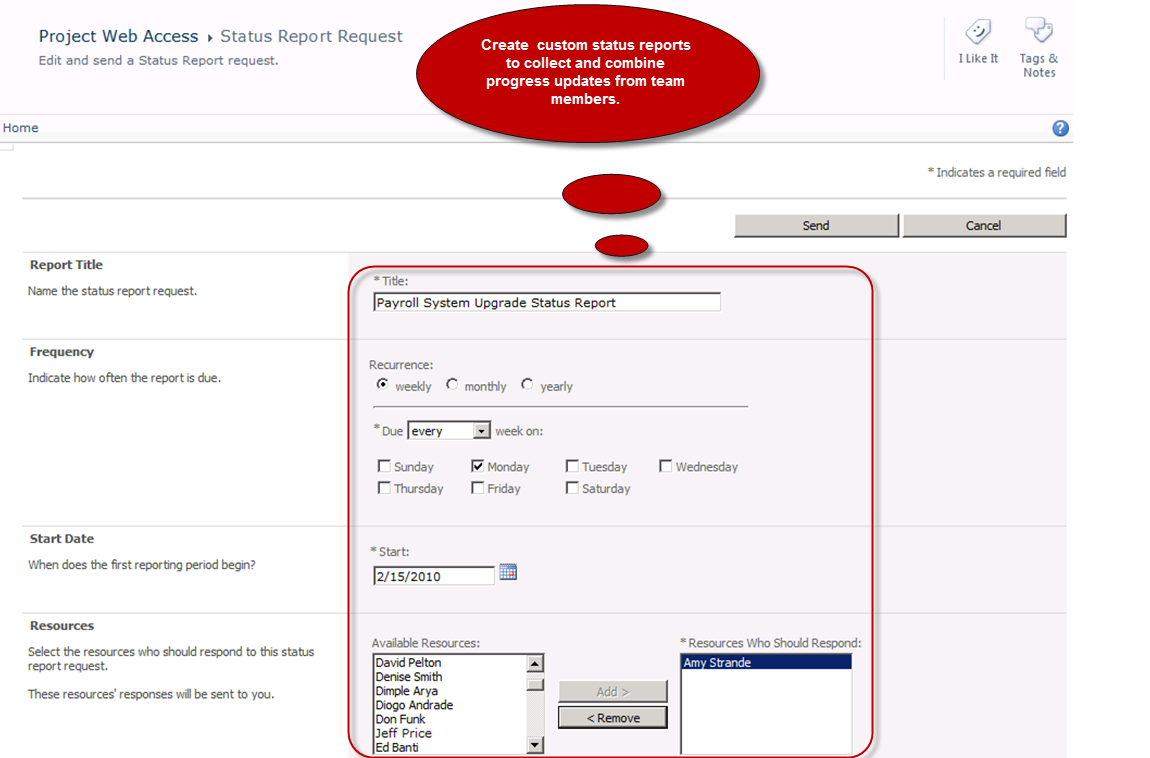 Create reports using best-practice report templates from Business Intelligence Center: Project Server 2010 Business Intelligence Center comprises a reports library that offers best-practice report templates, which makes it easy to create reports. The best-practice report templates available consist of common reports such as time sheet actual, issues and risks, resource, deliverable, simple project list, among others.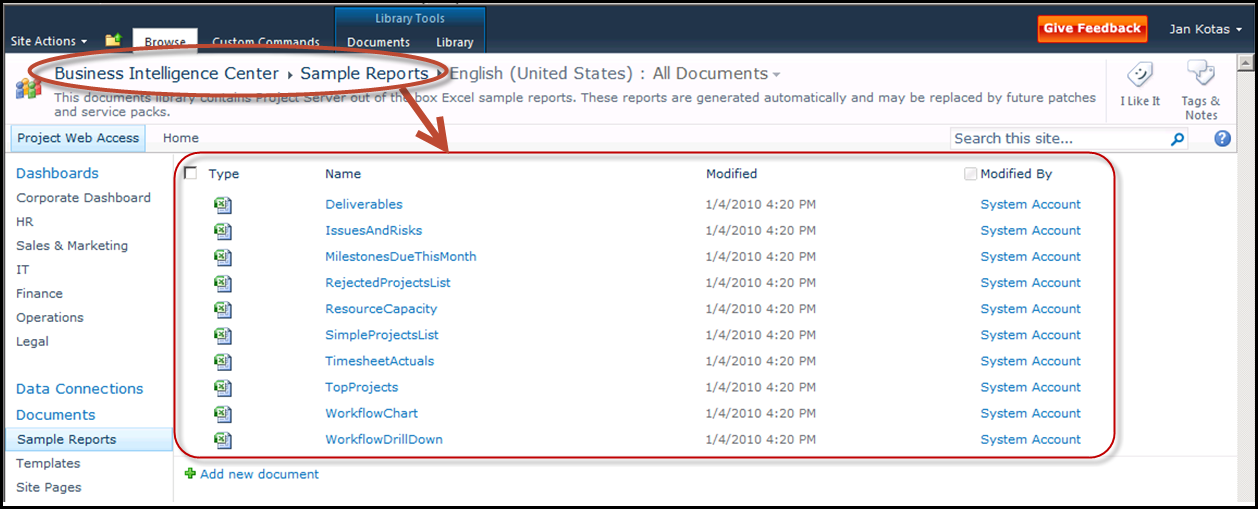 Create reports and powerful dashboards easily: You can create reports by just opening the necessary report template in an Excel editor. You can intuitively modify the report by choosing and positioning the essential data and with the help of PivotTable in Excel. You can create powerful dashboards that offer you with quick summary across the organization.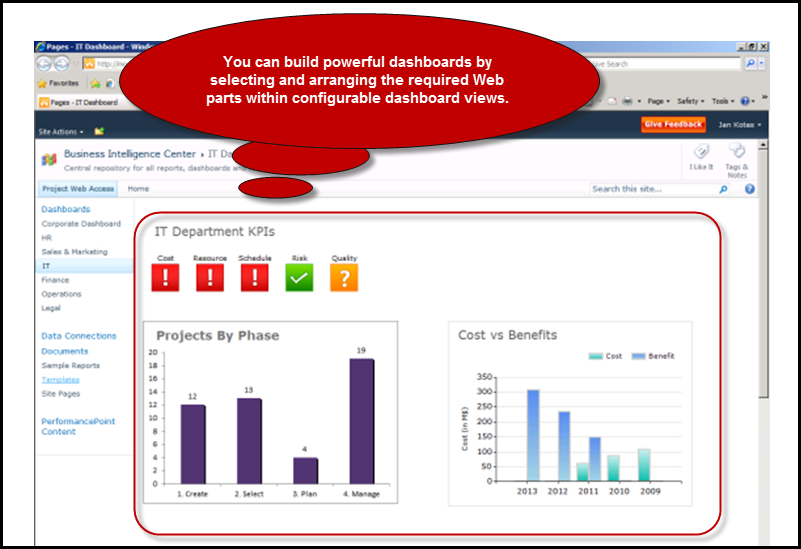 Set Baselines: Track project performance throughout the project life cycle by saving snapshots in up to 11 baselines. Setting baselines help you create snapshots of initial tasks, schedules, resources, cost data and more in your project plan before you include first actual work and per cent complete of the work.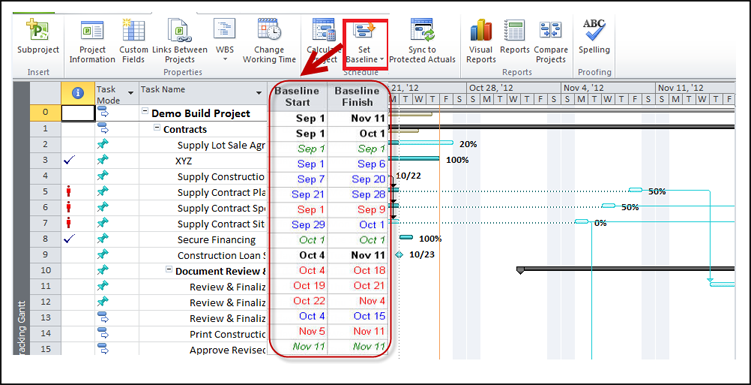 Project Server 2010 Hosting
Microsoft Project Server has been project managers' favorite for critical business decision making, resource management or routine scheduling of tasks. With Microsoft Project Server 2010, you get the opportunity to take your enterprise project management to the next level. Microsoft Project 2010 Server, built on top of SharePoint platform, helps you plan and deliver projects within budget and on time. And now, with Apps4Rent's low hosted Project Server 2010 pricing, it is cost-effective for even the smallest of projects and teams.
Features of Project Server 2010 Hosting
Quick Report Generation— Microsoft Project Server 2010 helps you to easily fetch reports whenever you want. You can print one-page schedules or reports directly from the tool. You can also export your report data to MS Office products such as Excel, PowerPoint and Visio, as per your requirements. Dynamic reports can be fetched in form of charts, diagrams, and graphs.
Extensible and Programmable—Built on the .NET framework, MS Project Server can be customized to work as per your business systems and processes. You can install Project Server 2010 via an API with Excel services. APIs and Project Server Event Model work together to display the data inside the client applications to trigger the business processes workflow.
Timesheets—The timesheet feature in Project 2010 server allows you to report the time spent on project or non-project activities. Timesheets track actual work time, which can be guarded through auditing.
Project Budget Control—With Microsoft Project 2010 Server, you can now control your finances spent on the project. The Budget field allows you to allot your budget by identifying costs for each resource.
Enterprise Templates—Enterprise templates in hosted Project Server 2010 allow you to create standardized templates for use across your enterprise. This MS Project Server feature allows you to have standard naming conventions, scheduling logic and project structures.
Resource Management—Project Server 2010 hosting solution enables you to manage your resources which include equipment, people and materials that are required to finish a project. Project Server's resource management feature helps you to centrally store resources in a Project Server database which can be accessed anytime from anywhere.
Update through Web—Professional client applications are not required for project updates. You can directly manage resources or update tasks in the MS Project 2010 Server. Soon after the publishing of the project plan, resources can view their tasks via Project Web Access (PWA).
Project Center—Project Center allows stakeholders and executives to view multiple project status at a glance.
Built on SharePoint—Microsoft Office Project Server 2010 is built on SharePoint 2010, which allows for collaboration and central management and tracking of issues, documents, and risks. Centralized management allows users to enhance the quality of their deliverables.
Risk Management—Microsoft Project 2010 Server identifies risks early and prompts you to alleviate them. Project Managers can set baselines for time and cost of the assignment. Microsoft Project Server tracks the discrepancy between the actual data and baseline. If the discrepancy is more, then the project manager is alerted about the same.
Best Project Server 2010 Pricing is from Apps4Rent
Apps4Rent offers the most up-to-date full featured version of Microsoft Project Server 2010 hosting. Our MS Project 2010 server are priced competitively starting at $125/month for 3 users. No set up fee, no long-term contracts, unlimited transfer, and 24/7 expert support and service from a Microsoft Gold Certified Partner are part of your package. So hurry get your MS Project Server 2010 right away!